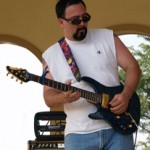 Mike Mora has been playing, studying and teaching music for decades. From here on out, I refuse to write about myself in the third person.
I started playing piano at age 7 and guitar by age 12. Playing for fun in some local jam sessions throughout high school, I never found the right band with which I could grow as a musician. I decided that I needed to widen the area that I was casting my net, so I studied music at the University of Missouri – St. Louis.
Having no money and even less prospects of finding a job, I decided to join the U.S. Navy. There I got to hone my chops and skills while floating on the ocean for months at a time. Even stated a ship's band while I was there that was really, really fun. Shout out to Jeff Long, Andy Copperwheat and Al Gorski. Great players to have in your band.
After leaving the Navy, having played in Australia and the Philippines, I relocated to Dallas, TX. Lots of great music coming out of Dallas at that time, so naturally I got the recording bug. Started out with a strictly midi studio to compliment my playing but by the time I had moved to my permanent residence here in Saint Louis, MO I was recording like a mad man. I actually took two years off from working and spent all of my savings to start a really nice studio. Small problem with the business plan is most musicians don't have very much money. So…I play, I teach and I study as much as can. I hope to bring some nuggets of knowledge to this blog and help others get a jumpstart on their beginning process.
You can pick up the latest recording by the Meteor Pilots here (recorded at my studio and featuring me on electric guitar).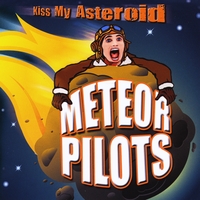 Recorded in the MORART Stewdios
Branden Lewis: Music has always been a big part of my life.  Being born in the late Seventy's, I was unfortunately exposed to a weird time in music history.  It was the end of quite possibly the greatest musical era of all time and the start of an era that featured Big Hair, Cheese Rock, and Rap.  For awhile, it seemed like I had things figured out …. the first two albums I ever purchased were The Beastie Boy's License To Ill and The Dead Milkmen's Big Lizard In My Backyard (not a bad start for a young chap).  Unfortunately, the next couple of albums I purchased were from M.C. Hammer and Vanilla Ice (like I said, it was a weird time for music).   Over the next 10 years, my musical interests ranged from Rap to Grunge (and a lot of junk in between).  Luckily, my parents were big Classic Rock fans and throughout my childhood I was continuously exposed to the likes of Joe Cocker, Bob Dylan, and Steve Miller.  I didn't know it at the time, but their musical influences would leave a lasting impression on the type of music I listen to now.
It wasn't until college that I discovered Jam Bands and was blown away with how familiar their sounds were.  Bands like Widespread Panic and Phish had a lot of similarities to the bands my parents listened to, namely the Allman Brothers Band and the Grateful Dead.  I not only fell in love with how I could lose myself in the long jams these bands played, but I was intrigued by the positive messages their music portrayed.  These bands didn't sing about "killing cops" or "getting in fights", they sang about good times and having fun, which was vastly different from the music I had chosen to listen to up until then.
My discovery of Jam Bands and the Classic Rock I grew up on have allowed my musical interests to grow in many ways that I never envisioned, including a fondness for bluegrass, reggae, and even country.   I am currently learning how to play the acoustic guitar and am lucky to have an awesome teacher (the creator of this blog, Mr. Mike Mora!).  Through this site, my friends, and music discovery I look forward to expanding my knowledge of music and the influences it can have on everything and everyone.
Matt Milsark:
Like most of the contributors of this site, music has played a pivotal role in my life.  But, honestly, I don't know why.  I don't know why I've had such an obsession for music since the first grade.  I don't play an instrument; I can't sing; I can't dance; I can't read music; I don't know music theory.  In fact, I don't care to do any of those things.  I just love listening to and exploring music.  It almost seems as if there's some innate trait that has always drawn me to music.  Obviously, my appreciation and passion for music isn't related to my own musical talent.  So what is music to me?
Music is the soundtrack of life, capable of instantly recalling major and inconsequential moments of our past without prejudice.  It is the reminder of high school parking lots, late night cruises through closed parks, and post-midnight adventures into the reaches of teenage paradise.  It is the sound of exploratory lovers panting towards adulthood in the backseat.
Music is sumptuous and alluring, enchanting dinners and diners with delectable soothing sounds underscoring conversation; always complementary, and never overbearing.
Music is the most democratized of art forms; capable of stretching and merging cultures, times, trends, and language.  It is the universal smile that creates understanding without speech.
Music provides insight into ourselves and to others, helping us find and connect.  It can incite stirring storms of emotional discontent.  It is the voice of revolution and revelations.  It is the chanting mob summoning a new future.
Music is the passenger during late-night drives; it is company against the impenetrable darkness and the lull of the painted lines on the road.
Music is the voice of a party.  It is the inebriate dancing on the table; the new lovers kissing in the corner.  It is the slow grind of dancers in the living room.
Music reminds us of those we've loved and lost; and those who never loved us.  It is the battle cry of unrequited passion and misguided emotions.  Music stirs the longing like a sweltering of stringed sounds echoing across the night.
Music is solace and solitude.  It is the flickering candle in nights where being alone is as comforting as a divine embrace.
Music is purity, enlightening the soul searcher to seek acceptance.  It is the baptism of spirits.
Music is the soundtrack to sweaty smacking flesh under silk sheets.
Music lives in every fabric of life.  Music is breathing.  Music is understanding.  Music is dreaming.
But most of all, music is exploring.